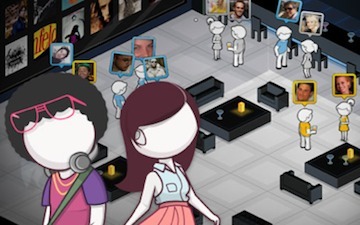 The last few months have seen an explosive resurgence in real-time environments, last popular in the late '90s. The interesting thing is that this new zeitgeist seems to have taken root in multiple places within the space of a few short weeks. I've seen this all before: I was one of the founders of an avatar chat company called The Palace, Inc. back in 1995. Although quite popular (10 million users at its peak in 1998), The Palace never found a revenue stream that worked. As Jake Winebaum once told me, Palace was a phenomenon, not a business. He was right. But that was then, and this is now.

The New Real-Time Landscape

Let's examine a few examples. Avatar-based chat room Shaker took the gold two weeks ago at the TechCrunch Disrupt conference. Created as a Facebook app, Shaker lets users enter an isometric environment that resembles a bar. You can see and interact with other fully articulated avatars that look like mannequins. Users can chat, dance, give other users virtual drinks, see which of your Facebook friends are nearby and invite them to join the party. There is no "point" to Shaker interaction; it's simply fun and engaging.